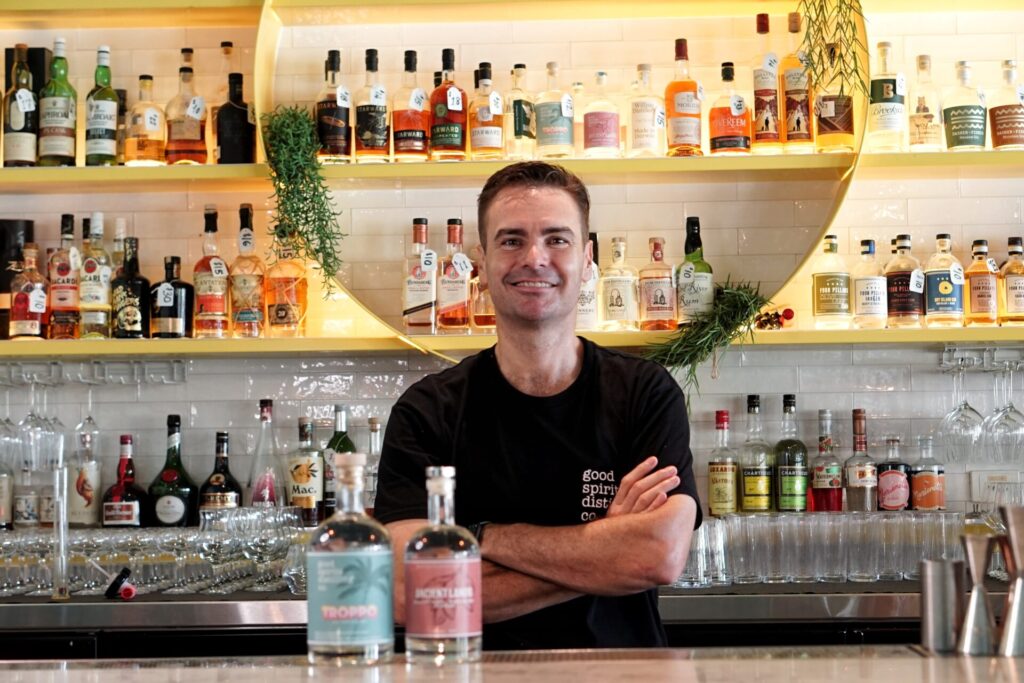 Northern Distilling, formerly Good Spirits Distilling Co is our unique micro distillery located at the Darwin Waterfront. The second licensed distillery in the Northern Territory, Northern Distillery was created out of a desire to create truly unique Territory craft spirits. David, with a long history in the beverage industry, being an internationally awarded bartender and restaurateur in Darwin was frustrated with a lack of a true Territory spirit, true Territory flavours.
In early 2019, we started the process of becoming a licensed distillery with a desire to create our own spirits to showcase the Northern Territory on the local, nationally, and international stage.
It wasn't until June 2020 when we officially received our manufactures licence. On the same day Kellie and David placed an order for their first custom build still from HHH Distil in WA. Some 4 months later, our little girl arrived and within 72 hours our first batch of Troppo, a recipe 12 months in development and inspired by our multi-culture cuisine was distilled.
Troppo, our first gin released is, as the name suggest, a tropical gin utilising a both traditional & local botanicals. On the traditional side we have juniper, coriander seed, angelica root, orris root. On the local side we are using Berry Springs Kensington Pride Mangos, Greenies organic Lime and ruby grapefruit, local lemongrass, Kaffir lime supplied by Kellie's Mum & family foraged rosella. All together these ingredients create an amazing flavour bomb.
From there we have released a range of limited releases, including Hazy Mango Gin, FranGINpani Gin under our local Troppo master brand.
Ancient Lands is the super-premium brand with a native focused botanical spirits sister too Troppo. The limited releases so far include Ancient Lands Kakadu Plum, Ancient Lands Kakadu Plum and Wattleseed & Dalirrgang Gin.
Stay tuned there are more limited seasonal releases on their way.
Northern Distilling Awards
TROPPO Top End Gin Australian Distilled Spirit Awards Silver Medal 2023
TROPPO Top End Gin Tasting Spirit Awards Gold Medal 2022
TROPPO Top End Gin Royal Australian Spirit Awards Silver Medal 2022
TROPPO Top End Gin International Wine & Spirits Competition (IWSC) Silver Medal Gin & Tonic 2022
TROPPO Top End Gin Australian Distilled Spirit Awards Silver Medal 2021
TROPPO Top End Gin International Wine & Spirits Competition (IWSC) Silver Medal Gin & Tonic 2021
TROPPO Top End Gin International Wine & Spirits Competition (IWSC) 93 point Silver Medal 2021
ANCIENT LANDS Kakadu Plum Gin 2023 Australian Distilled Spirit Awards Silver Medal 2023
ANCIENT LANDS Kakadu Plum Gin 2022 International Wine & Spirits Competition (IWSC) 93 point Silver Medal
ANCIENT LANDS Kakadu Plum Gin 2022 Royal Australian Spirit Awards Silver Medal 2022